Quorn mycoprotein
Super protein. Super tasty.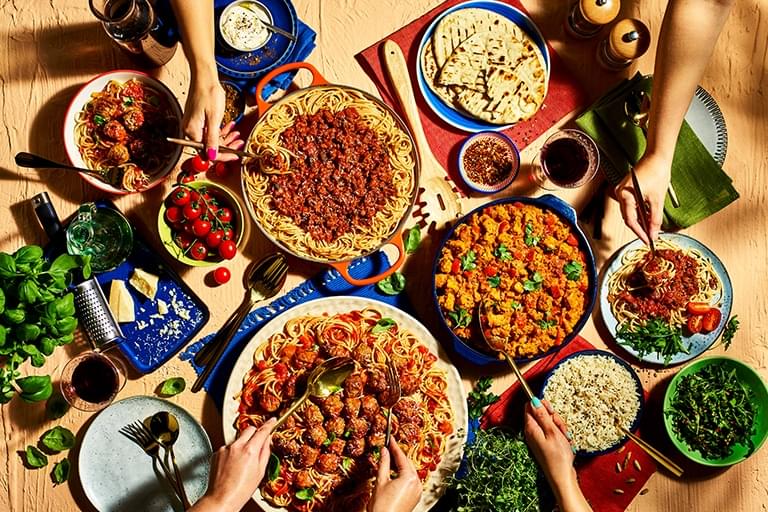 All Quorn® products are powered by Quorn mycoprotein. A super-protein that makes great-tasting meat-free meals while being healthy for you and the planet. So whether you follow a vegan, vegetarian or flexitarian diet, we think Quorn mycoprotein should be your protein of choice. It's a no brainer.
What is Quorn mycoprotein?
Quorn mycoprotein is a source of meat-free protein that is high in fibre and low in saturated fat. To make Quorn mycoprotein, we don't start with livestock, we take a natural, nutritious fungus that grows in the soil. This fungus is known as Fusarium venenatum.
We then use the age-old process of fermentation – the same process used to create bread, beer and yoghurt – to grow Quorn mycoprotein. And because producing Quorn mycoprotein takes 95% less CO², than typical beef mince[1], it is a great example of a more sustainable and nutritious protein source for a growing global population.
Data sources: 1. Quorn Footprint Comparison Report (the Carbon Trust, 2022)
The magic of Mycoprotein
Watch our video to learn more about Quorn mycoprotein. We take a different approach to producing protein, using Quorn mycoprotein in all Quorn products, for the benefit of the planet.
View products
Environmental benefits of Quorn mycoprotein
Quorn mycoprotein is a unique and nutritious protein that's good for the health of our planet.
40x lower
The carbon footprint of Quorn mycoprotein is 40x lower than beef and 6x lower than chicken†[1]
30x lower
The water footprint of Quorn mycoprotein is 30x lower than beef and 6x lower than chicken†[1]
2012
Carbon Trust has certified the carbon footprint of Quorn mycoprotein since 2012 making it the first meat free protein source to have third party carbon footprint accreditation†[1]
How is Quorn mycoprotein used in Quorn?
Quorn mycoprotein is incredibly versatile and is used as an ingredient in all Quorn vegan and vegetarian products, helping to create the amazing taste and texture that Quorn products are loved for. Browse our site to discover delicious meat-free products and vegan & vegetarian recipes to make your mealtimes delicious.