Nuggets of change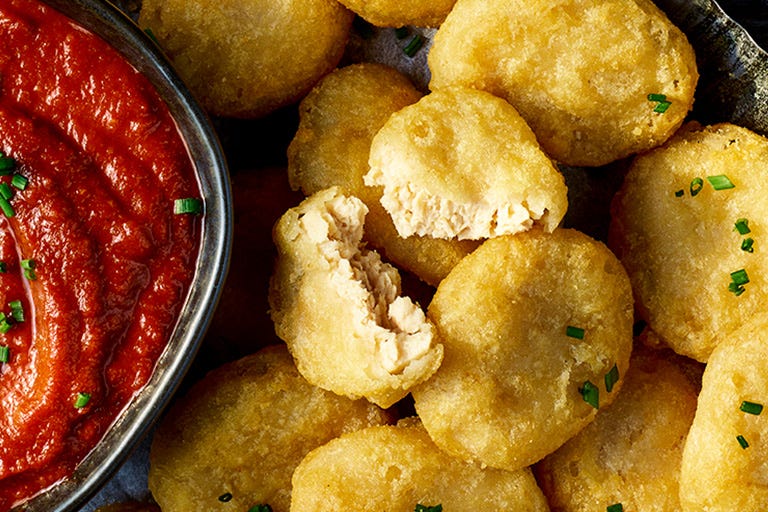 Get back to school with sustainable eating habits. Our Nuggets of Change campaign is here to celebrate the small positive changes we can make in everyday life. Whether it's enjoying extra family mealtimes, more time for family fun outdoors or dance routines with Dad, those little changes, although small, can be often powerful and have a lasting, positive impact.
Just like our delicious Crispy Nuggets, a small swap in the right direction can have a powerful impact on ourselves, the people around us and the planet.
Quorn Crispy Nuggets
Not only do Quorn Crispy Nuggets help us to reduce our carbon footprint, they taste amazing too, which makes them a deliciously easy swap into family mealtimes.
View product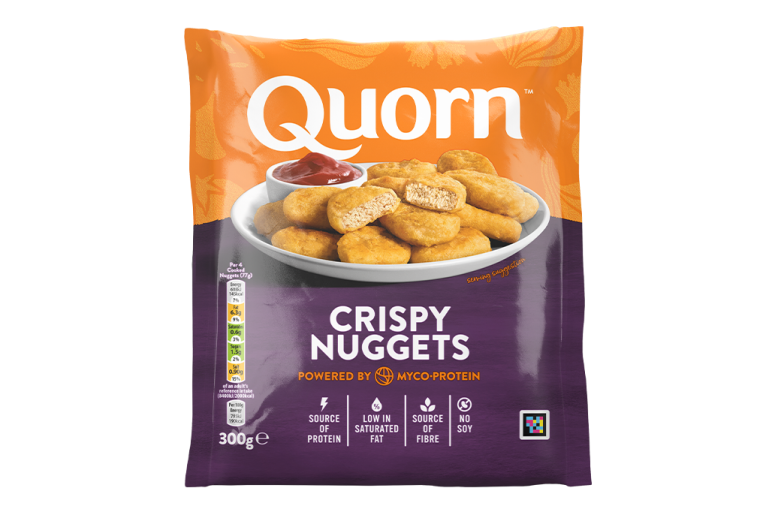 A meal the whole family can enjoy!
Helps to reduce our carbon footprint!
Quorn Crispy Nuggets with Katsu Curry
Looking for family dinner time inspiration which even the pickiest of kids will love? Emily Norris shares her delicious Katsu curry dipping sauce recipe which she serves up with Quorn Crispy Nuggets. This tasty dish is quick to make and a simple meat free mealtime swap that the whole family will love! Get the recipe below.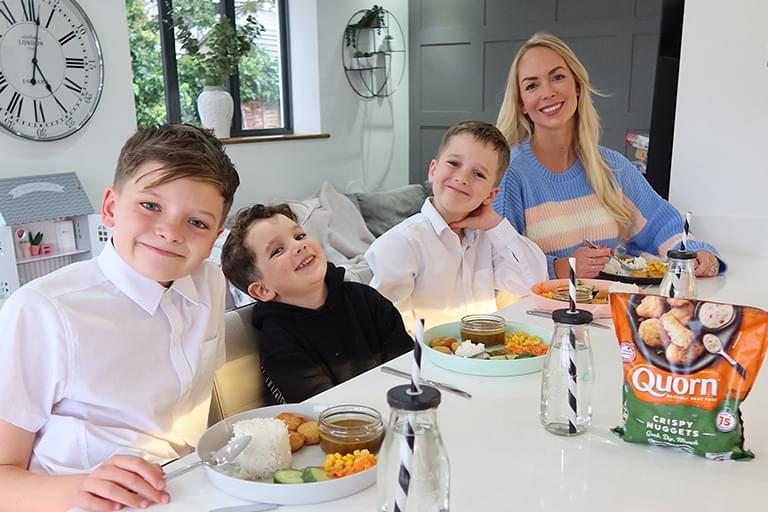 Quorn Katsu Curry for Kids
Ingredients
1 x 476g bag Quorn Crispy Nuggets
For the katsu curry sauce:
1 tbsp olive oil
1 medium white onion, peeled and finely chopped
3 cloves of garlic, crushed
2-4 tbsp mild curry powder
1 tbsp plain flour
1 tbsp honey
1 tbsp soy sauce
250ml vegetable stock
To serve:
180g white rice or Basmati rice
200g frozen sweetcorn
1 large carrot, grated
Cucumber
Method
Preheat the oven to 220°C/200°C fan/Gas Mark 7. Place the Quorn Crispy Nuggets on a baking tray lined with baking paper and cook for 15 minutes, or until golden.
Meanwhile, cook the rice according to packet instructions.
To make the sauce, heat the olive oil in a large saucepan over a medium heat. Add the finely chopped onion and fry for around five minutes, until softened.
Add the crushed garlic, flour and mild curry powder to the pan and stir to combine. Fry for a further two minutes, then add the honey and soy sauce. Stir, then slowly pour in the vegetable stock, whisking as you go.
Simmer for 10 minutes, until you have a thick sauce.
Meanwhile, cook the frozen sweetcorn according to packet instructions.
Blend the katsu curry sauce until smooth in a blender, or with a stick blender.
To serve:
Divide the Quorn Crispy Nuggets between your plates. Pack the cooked rice into a cup and turn out onto each plate to create a restaurant-style dome of rice.
Serve with frozen sweetcorn, grated carrot and cucumber cut into half-moons.
Pour the katsu sauce into small dipping bowls or ramekins.
Back to school favourites
From tasty lunchbox recipes and healthy snack ideas to quick & easy dinners that the kids will love coming home to, explore our range of fuss free, totally delicious and satisfying recipe ideas.
See all recipes