Picnics for the Planet!
Picnic lovers rejoice, we are very excited to announce that we are partnering with Deliveroo on Saturday 7th and Sunday 8th August to offer meat-free picnics for 1p in London and Manchester (until stocks last), as part of our mission to help the planet one picnic at a time.
A few simple swaps to your deli-filled sandwiches, picnic eggs and cocktail sausages to a tasty meat-free alternative, makes not only for a delicious, flavour-packed picnic feast, but a more sustainable picnicking choice.
Brits will enjoy 241 million picnics this summer – but over 24,500 tonnes of carbon emissions could be saved if everyone goes meat-free for just one. That's the equivalent of driving nearly 5,000 times around the earth or powering over 7,400 homes for a year! And with the summer holidays in full swing, wherever you are picnicking, we've made it super easy to swap out your meat-based picnic snack.
Actress and presenter, Denise Van Outen will be helping us to deliver the first picnics in London said "I've been making a conscious effort to cut down meat in mine and my family's diet recently, which is why I've teamed up with Quorn. I've tried some of Quorn's snacking range including the great cocktail sausages, they're so delicious that you don't feel like you're missing out on anything and you're helping the planet at the same time!"
For your chance to grab a Quorn meat-free picnic this weekend, scroll down to find out how to order #SwapForSummer
Want to know more? For the full press release, please click here.
Quorn x Deliveroo meat-free picnics
Grab your 1p meat-free picnic hamper this weekend via the Deliveroo app! Hamper includes Quorn Cocktail Sausages, Picnic Eggs, Vegan Smoky Ham and the new Sweet Chilli Bites, alongside wholemeal bread rolls and handcooked sea salt crisps. Available on Saturday 7th and Sunday 8th August (until stocks last) in the areas of London and Manchester.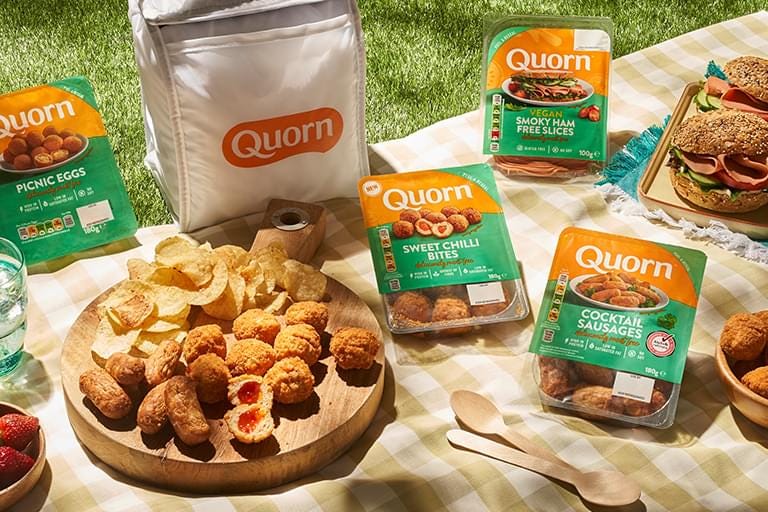 Picnic Food
We want your summer picnics to be perfect. That's why we're sharing our secret tips and tricks to make sure that your picnic is as delicious as it could possibly be. Picnic food should be taken seriously, and at Quorn it most definitely is!
See all recipes
Summer Snacking
Whether you're outdoors for a picnic or just staying in, our range of veggie and vegan snacks are perfect for any occasion. From picnic eggs to cocktail sausages and sweet chilli bites, summer snacking never tasted so good!
View full range
Meet our summer 2021 guest bloggers
Whether picnic or BBQ, there's no better time to perfect your al-fresco dining than in summer. Join our guests bloggers with their top tips and tasty recipes to help you embrace the great British outdoors, the meat-free way.